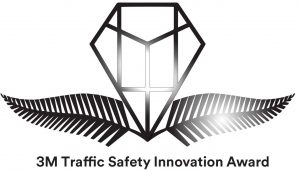 11 May 2021: Nelson City Council has won New Zealand's premier road safety award for an innovative approach to dealing with residential traffic speed management.
The 3M Traffic Safety Innovation Award for 2021, which recognises exemplary innovation and effectiveness to save lives and injuries on roads, was presented at the Engineering NZ Transportation Group's annual conference in Auckland recently, attended by more than 200 of NZ's transport professionals and advocates.
The winning project was "Innovating Streets for People – Nelson South" which sought to use an innovative, low-cost approach to reduce high volumes of non-residential through traffic during peak times on Waimea Road, Nelson.
Working with a range of organisations and the local community, the project team developed and implemented 'tactical urbanism' treatments, such as 'pop-up' planters and seating areas, coloured surfacing and other features.  These were shown to both lower speeds and reduce the volume of traffic, but done in a way quicker and cheaper than traditional traffic management techniques.
This project is co-funded by the Nelson City Council and Waka Kotahi NZ Transport Agency's Innovating Streets scheme.
"Our 2021 winner demonstrates a quick, effective and innovative approach to improving safety in residential areas, which will have real benefits for our communities," says Transportation Group National Chair, Bridget Burdett
"Nelson City Council is being congratulated through this award for developing such an innovative and effective project, which could be applied to residential areas in other parts of the country."
Judges for the 3M award considered the specific features of the many projects submitted, particularly in terms of innovation in thinking and technology, problem-solving as well as the real benefits in reducing trauma. Cost-effectiveness and transferability to other areas were other key criteria.
Finalists for this hotly-contested award came from many areas of the transport profession.
The winning team was made up of the following members:
Marg Parfitt
Sue McAuley
Rebecca Dawkins
Paul Shattock
Matt Bruce
James Newton
Ross McPhie
Clare Scott
The other finalists were:
Dunedin City Council – Low cost painted roundabouts
Waka Kotahi – Auckland Systems Management – It's concrete Jim, but not as you know it…
Fulton Hogan NZ Ltd – Certified Safe – Designing greater safety into a vehicle fleet
Places for Good – How To Draw A Line In The Asphalt