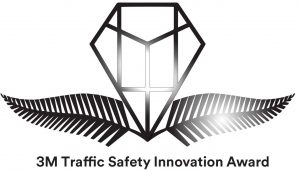 Auckland Transport has won New Zealand's premier road safety award for an innovative approach to dealing with residential traffic speed management.
The 3M Traffic Safety Innovation Award for 2020, which recognises exemplary innovation and effectiveness to save lives and injuries on roads, was presented at the Engineering NZ Transportation Group's annual conference in Christchurch recently, attended by more than 200 of NZ's transport professionals and advocates.
The objective of the Residential Speed Management (RSM) programme was to shift from an individual-street to an area-based speed-calming approach, and to shift to a proactive speed-management approach by identifying areas in need of speed-calming measures.  The team developed a programme for investigation and construction of prioritised speed management schemes.  However, the key innovative approach employed in this project was to create a robust criteria capturing key indicators, which enabled regional prioritisation of area-wide speed-calming schemes.
Establishing a regional prioritisation criteria to create the RSM programme promoted:
Safe speeds by designing for 30km/h residential roads,
Safe vehicles by targeting all motorised vehicles (including buses),
Safe roads and roadsides through the design of self-explaining roads,
Safe road use through an area-wide approach that complements area-wide behavioural change campaigns,
and above all,
Safe System approach by taking a proactive, evidence-based, approach to speed-management that targets investments to reduce deaths and serious injuries.
"Our 2020 winner demonstrates an effective and innovative approach to improving safety in residential areas, which will have real benefits for our communities," says Transportation Group National Chair, Jeanette Ward.
"Auckland Transport is being congratulated through this award for developing such an innovative and effective project, which could be applied to residential areas in other parts of the country."
Judges for the 3M award considered the specific features of the many projects submitted, particularly in terms of innovation in thinking and technology, problem-solving as well as the real benefits in reducing trauma. Cost-effectiveness and transferability to other areas were other key criteria.
Finalists for this hotly-contested award came from many areas of the transport profession.
The winning team was made up of the following members:
Pragati Vasisht (Team Leader)  

Shane Silcock

Fransiska Amos

Veraina Tanielu

Raman Singh

Melanie Alexander

Randhir Karma
The other finalists were:
Auckland Council – Sale Street Tactical Urbanism Intervention
Hamilton City Council – Thomas Road / Gordonton Road Intersection Safety Improvements
Abley Ltd – Safer Journeys Risk Assessment Tool (Mega Maps)
WSP Ltd – Vision Zero Approach to a Collaborative Programme